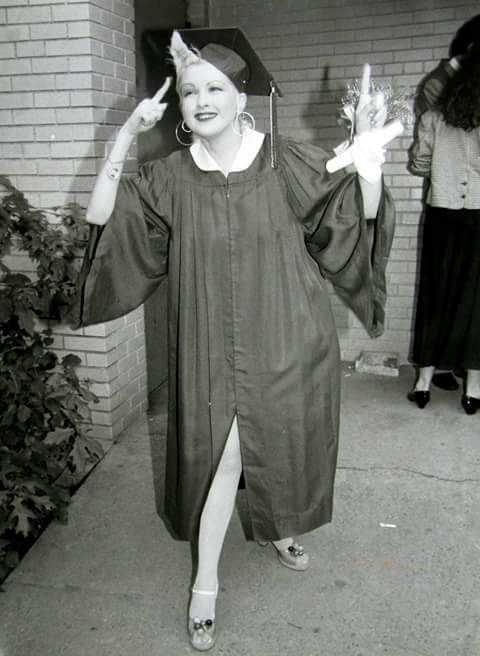 Cyndi to Receive Honorary Degree
Iconic Performer and Activist Cyndi Lauper to Speak at Northern Vermont University-Johnson Commencement May 18
JOHNSON, VERMONT — Northern Vermont University President Elaine Collins announced today that the groundbreaking Grammy, Emmy, and Tony Award-winning songwriter, performer, and social activist Cyndi Lauper will deliver the commencement address at Northern Vermont University-Johnson on May 18.
Lauper attended Johnson State College, now NVU-Johnson, in 1973 and 1974. She will receive a Doctor of Letters Honorary Degree (Litt.D) at the commencement ceremony.
"Simply put, Ms. Lauper is a creative genius who demonstrates the highest level of excellence as a songwriter, musician, entertainer, and activist. She is a leading voice in issues of social justice and has used her art and entertaining ability to broaden understanding of marginalized populations. It will be an honor to give Ms. Lauper an honorary degree," says NVU President Elaine C. Collins. "Her inspiring spirit will enrich our graduates as they embark to make a meaningful difference in their own communities."
NVU-Johnson's 152nd commencement ceremony, which will be on the campus's South Lawn, is a ticketed event, with seating under the tent reserved for graduating students, their guests and others participating in the ceremony. Simulcasts of the ceremony will be broadcast on campus and a livestream of the event will be available online.
Lauper is best known for her classic songs including "Time After Time," "True Colors" and "Girls Just Wanna Have Fun." She was inducted into the Songwriters Hall of Fame in 2015, and in 2018 shereceived the Icon Award from Billboard at its annual Women in Music event.
Lauper is a longtime advocate for women, the LGBTQ community and people who live with HIV and AIDS. Her charitable organization, True Colors United, works to end homelessness among LGBTQ young people.